Thursday, November 27, 2008
Posted by

SpiderBaby
at 11:57 PM
No comments:

Sunday, November 23, 2008
Dagon's mom has opened an Etsy shop. If you like country and Christmas themed items then check it out.


Posted by

SpiderBaby
at 9:17 PM
1 comment:

Dagon has opened a Vintage Bottle Shop on Cartfly.


Posted by

SpiderBaby
at 9:13 PM
No comments:

Saturday, November 1, 2008
We were very busy here at DragonWyck Manor in September and October 2008.
We had Zombie Drive at DragonWyck Manor Halloween, and it took a lot of work to get it ready.
Dagon made a bunch of zombies to display from scratch. They looked really cool! We made signs, flyers, and banners to advertise. Dagon also customized several other items to use for decorations.
It was a lot of fun!
We also worked on Frightmare Forest. We started Frightmare Forest last year and worked really hard on it, but were not gonna work on it this year, then two weeks before it started people from the VFD came and asked would we help out. So Dagon did some building, he fixed the witch-house up some and put boards on the section we were at and made a old west looking entranceway. We turned a plain vampire tunnel into a vampire crypt with faux brick walls and scary eyes. Dagon also painted a cemetery sign and stuff on some grave-markers. He also fixed some of the spiderweb that was hanging up. We also worked as actors in it 2 nights. We had a lot of people screaming and jumping at our scare section. Dagon worked a chainsaw and wore a scary mask he made and I was a Zombie Queen called Bone Mama.
You can view photos from Frightmare Forest at:
http://frightmareforest.angelfire.com/
We also had horror movie marathons and did the usual housework/yard-work and general everyday stuff that has to be done. So we have been super busy.
Photo from Zombie Drive!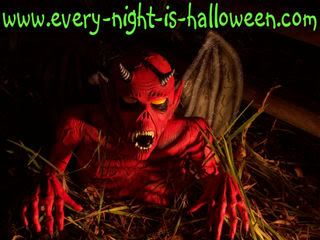 Posted by

SpiderBaby
at 12:24 PM
No comments:

Zombie Drive was a huge success with over 100 children/people coming to it! It was a lot of fun!
To see photos from Zombie Drive go to the website:
http://zombie.drive.angelfire.com/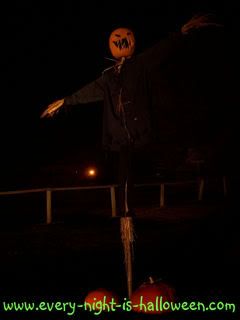 Posted by

SpiderBaby
at 12:19 PM
No comments: